Walking San Francisco's 49 Mile Scenic Drive
Inspiration—to get out and walk, the best exercise in the world. Each chapter gives you the hill steepness rating, and the step count!
An Adventure—explore new parts of the City, and rediscover areas you thought you knew. You see so much more on foot.
Connection—go walking with a friend, a lover, a grandchild.Put down your phones, talk, explore have an adventure together.
An SF History Fest

—it's packed with many quirky facts, fun stories, and SF heroes, villains, and fascinating residents.

A Challenge—when you finish all 17 walks, the entire route, you will be among the first people in history to have done so—and the bragging rights will be yours forever!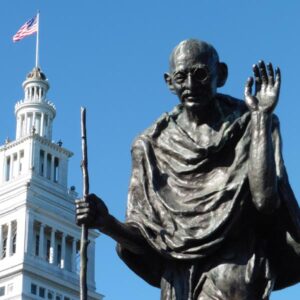 What is the 49 Mile Scenic Drive?
The 49 Mile Drive was born back in 1938 when the whole world had just been invited to visit San Francisco for the 1939-40 Golden Gate International Exposition. The Downtown Association wanted a way to get all those visitors out to see San Francisco's neighborhoods, marvel at her beauty—and think about doing business in San Francisco. So, they created a "49 mile" loop-trail around the city. (read more history….)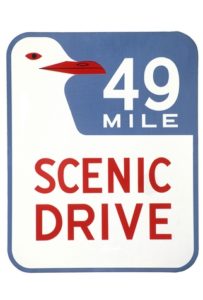 The Drive was at hit! Nearly 80 years later people are still following the white, blue and orange seagull route markers through the city… but the Drive has a catch. With modern traffic, it takes three to four hours to drive it all. Yikes!
Now there's a better way to see the best of SF
Instead of zooming by San Francisco's most picturesque spots in a closed car, you are invited to explore her breathtaking and quirky locales face-to-face, one step at a time—hiking through her parks, along the cliffs, through forgotten neighborhoods, and past treasured SF landmarks.
Come Explore San Francisco's 49 Mile Scenic Drive – one walk at a time
By slowing down and walking the sidewalks of the City by the Bay you may be surprised at how many new things you discover on streets you may have traveled dozens of times before. At this leisurely pace, your senses will have more time to engage with the sights, sounds, smells—and tastes—of San Francisco's distinct districts. Come explore Dogpatch, Mission Bay, Lake Merced, Sunset Boulevard and more.
"Must See" walks for first time visitors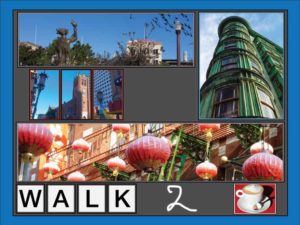 For those short on time, the "must see" visitors' walks give you a turn-by-turn insiders tour passed 38 of 40 Fodor's most recommended, most popular locations –such as Chinatown, North Beach, Coit Tower, Fisherman's Wharf, The Palace of Fine Arts, the Presidio, the Golden Gate Bridge, and more.
 And it couldn't be easier.
The guide includes detailed maps, points of interests, tips on Victorian architecture, bus routes at the beginning and ending of each hike, recommended parking, hidden SF gems, "must see" museums –AND walkers tips such as: step counts and mile distances, hill steepness rating, weather tips and more.
Plus, the bonus "Tabloid History of SF" entertains you with fun facts and history tidbits most natives don't know.
SF Tabloid History: We're Pretty Sure It's All True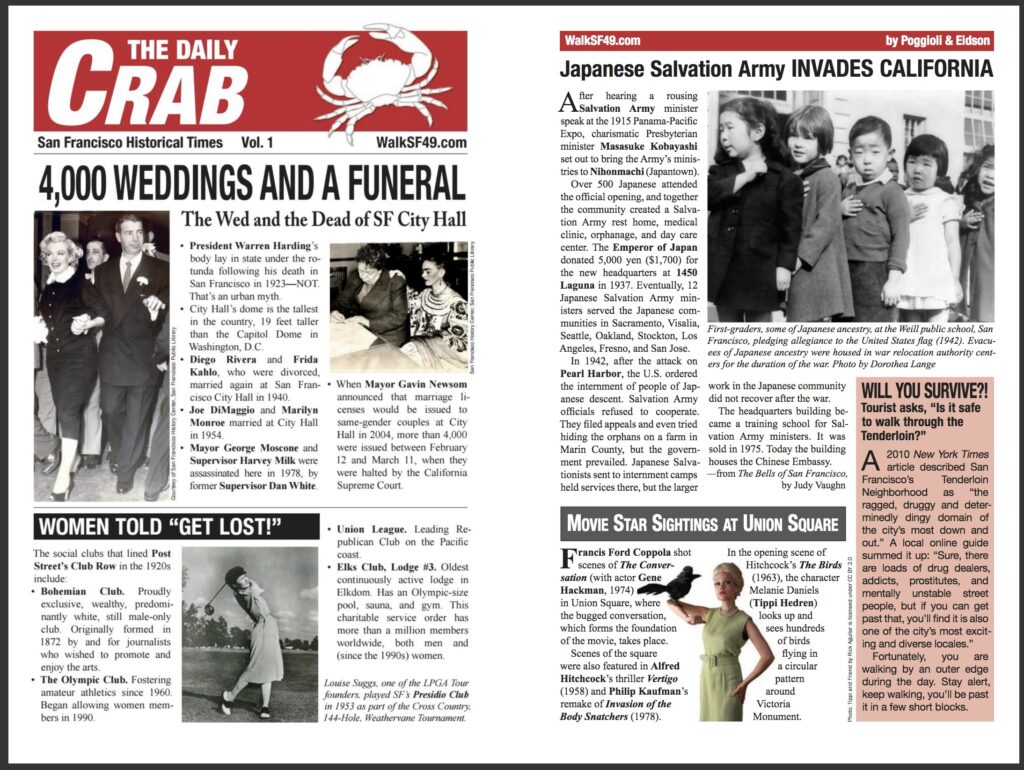 Walking San Francisco's 49 Mile Scenic Drive celebrates the SF history, heroes, and hilly sites directly on the route. Along with basic neighborhood history, every Walk chapter includes a few pages of the DAILY CRAB tabloid –serving up bite-size snippets of lesser know, quirky history told in a way to make you smile (or cringe).
Whether you're walking for the views, the history, the exercise, or  the adventure—get out and get walking in the most beautiful city in the world.
In whatever way you choose to enjoy the scenic route, these 17 well-crafted walks are designed so you can take this dazzling city tour at whatever pace, in what ever way, you find most enjoyable.
And for those of you who accept the challenge to walk the entire route—and the day comes that you have walked that last mile, when you've conquered this challenge—you will be one of the few people in the world, in history, who can say, "I Walked San Francisco's  49 Mile Scenic Drive"—and the bragging rights will be all yours.
Walking San Francisco's 49 Mile Scenic Drive
It's a great adventure for families, couples, walkers, visitors and locals, and a healthy, green way to tour the best of San Francisco—all in 17 witty walks. Reserve your copy today.