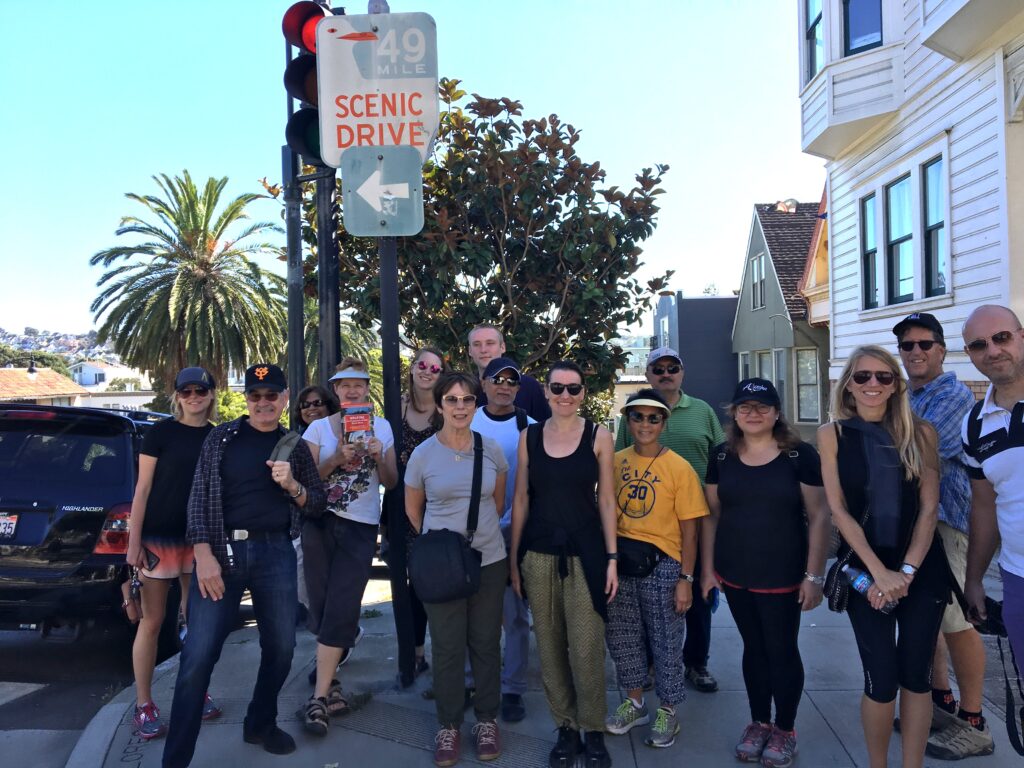 Author-Guided Walks of San Francisco's 49 Mile Scenic Route
---
NEW: Book a private tour for your group.
Yes, we will take your group (clubs, family reunions, fundraisers) on a guided-walk along a segment of the 49 Mile Drive. Contact us for details: authors@walksf49.com
---
** Public Walk 2020 Schedule*
**YIKES–Group walks cancelled until the pandemic infection rate settles down**
17 San Francisco Walks
Join the authors on a walking adventure through SF's quirky neighborhoods, grand vistas, and historic sites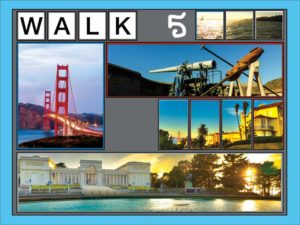 If you'd like the fun of  walking the entire Drive in one year, and you want to do it with a group:
Get the book and round up some friends to join you 

—OR—

Start a MeetUp group and walk with some new folks


—OR—

come join us once a month or so
What ever way you choose to do it—get out and enjoy the new SF adventure: walking—rather than driving—San Francisco's 49 Mile Scenic Drive. Not in one day, (sheesh!), it's broken down into 17, 2-3 mile walks.
However, if you accept the challenge to walk the WHOLE route, the SF bragging rights will be all yours forever!
What is SF's "49 Mile Drive?" Since 1938, the 49-mile route markers have directed natives and visitors alike on a big loop tour of the City by the Bay. But now, instead of zooming by it all in a closed car, you can get up-close and personal with the best of the City, by following the new guidebook: Walking San Francisco's 49 Mile Scenic Drive.
It's even more fun to explore the "drive" with other like-minded, curious adventurers—and the authors, Kristine Poggioli and Carolyn Eidson.
Come hang out with us for a couple of hours. We will take you on a turn-by-turn guide along one of 17 sections of the historic route. Along the way, we'll share a bit of the most-likely-true history and fun factoids we discovered while researching the guidebook.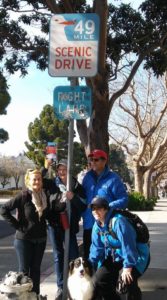 Register on Eventbrite. Schedule and tix links at top of page.
Great for locals and visitors, kids and couples. If you are on a short visit join us for one of the "Visitor Highlight Walks" [Walks #2, 3, 4, 6, 11, 13, 16]
We would love to meet you and be part of your San Francisco walking adventure—join us for one of the 17 walks!
Here's the scoop: how we'll walk the entire 49 Mile Scenic Drive together
Register at Eventbrite [limit to 25 people]
Nearly all the Walks are on Sundays at 10am, or Saturdays at 1pm, and take 2-3 hours.
The meetup site is listed both in the guidebook and on the event page
Official Walk routes average 3 miles each, AND we usually take a few of the detours and stop at a few places, so your Fitbit may register 4-5 miles. (Plus the walk back is another 2-3 miles, if you join us for that.)
At the end of each Walk, there is an option to hop on the bus back to the beginning, continue on your own (for a yummy bite to eat, or an uber home, or…?), or walk back on a different 2-3 mile route with us.
To see if the hike is particularly hilly, or easy and flat, check the book or event page
We are doing the walks in random order.
Special walk dates often  include:

A gorgeous Thanksgiving day or day-after-Thanksgiving stroll  (walk off some of that pie!)
Walk #17, Dec 31. The last Walk, on the last day of the year—so we can celebrate together! (or sometimes Jan 1 to start your year off strong)

FEE: $5.
RAIN CANCELS (which we will announce two days before if rain seems very likely)
Join us on a walking adventure through SF's quirky neighborhoods, grand vistas, and historic sites
Walking SF's 49 Mile Scenic Drive is a great athletic challenge, an amazing San Francisco adventure, and a wonderful way to connect with fun, smart, curious people —just like you. Simply pick a walk, sign up and show up. We suggest you wear layers, tennis shoes, and a hat, and bring some water.
[Note: If you want to
take the challenge
, to walk the entire historic route
—all 17 San Francisco Walks—
in one year, it only takes 1-2 walks a month. You can do it!]
We look forward to seeing you!
Save
Save
Save
Save
Save
Save
Save
Save
NEW: And if you want a private tour, now you can book us to guide you along one of the segments. Contact us for details: authors@walksf49.com