49 Mile Scenic Drive 80th Anniversary Events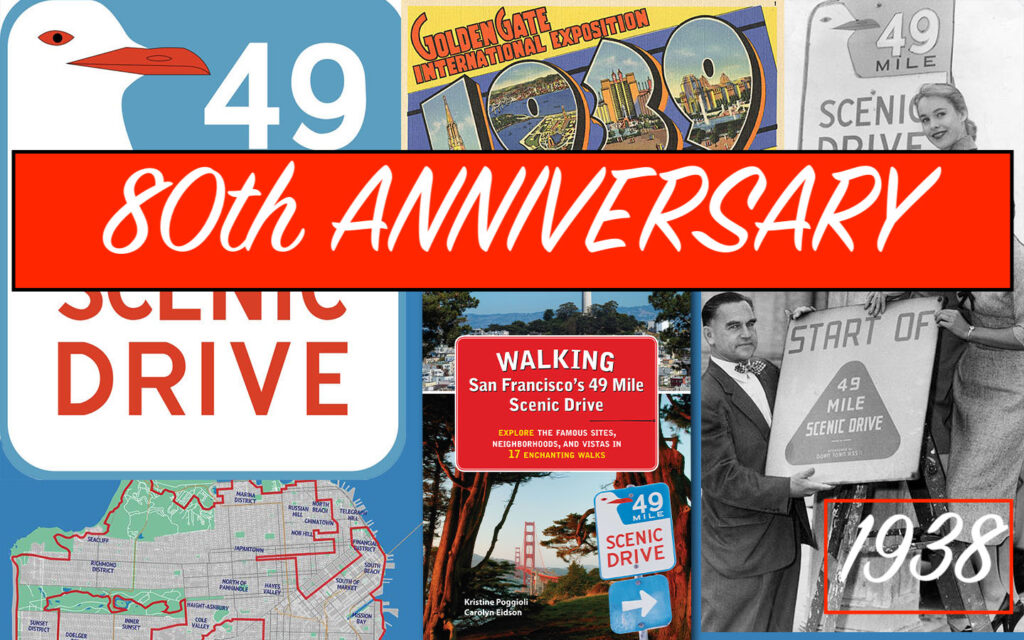 A San Francisco Celebration of the 1939-40 GG Expo!
[read about the history of the 49 Mile Scenic Drive]
What a great year!
THANK YOU for joining us on our 80th Anniversary virtual tours, guided walks, public presentations, book signings, and more. You made it so much fun!
Special thanks to other 80th Anniversary participants, including:
The Mechanics Institute

Treasure Island Museum

Golden Gate Int'l Expo Speakers and Organizers

SF Public Libraries (7 of them!)

Muni Diaries podcast, SF Chronicle (Peter & Heather!)

All the Groups and Private Clubs who invited us to speak

Everyone who came on a group walk and attended a virtual tour
—  —  —  —  —
We'll be back in 2020 with:
More Virtual Shows of: Walking SF's 49 Mile Scenic Drive—in 45 minutes (book us for your group!)
Author-Guided Walks along a section of the 49 Mile Drive
OF COURSE, you can choose to take the Challenge to WALK the Drive in one year, any time you want
You can also get your very own iconic seagull sign to celebrate SF for years to come
NEXT GROUP WALK
**Sorry, All group walks due to COVID-19 safety concerns**
—  —  —  —  —
Awesome SF Holiday Gift:
San Francisco's
49 Mile Scenic Drive officially opened on
Sept. 14, 1938
San Francisco's 49 Mile loop-trail around the city was created as part of the 1939-40 Golden Gate International Exposition held on newly created Treasure Island. Designed to show off the city's most famous landmarks and varied neighborhoods, it became an instant hit. Visitors, locals, motorists, cyclists—and now urban hikers—have been using the trail to explore San Francisco ever since. [read full history here]
This gorgeous, retro, fun San Francisco adventure is having a 3-year 80th anniversary. Come rediscover this City gem.
Let's keep celebrating this
true San Francisco treasure
for another 80 years!
Come explore SF's 49 Mile Scenic Drive soon!
—  —  —  —  —
Congratulations to all the finishers of the 2019 the challenge to WALK the Drive in one year!